Meeting/Event Information
NE WI IFMA December meeting & holiday party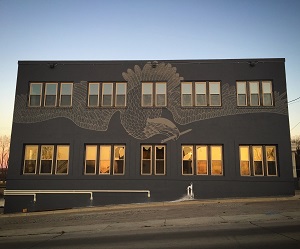 In order to better accommodate everyone's hectic pre-holiday schedules, the start time of the tour has been pushed back a half-hour to 5:00.
"Everything old is new again."
Many communities in Northeast Wisconsin are incorporating the repurposing of existing historic buildings in their revitalization and growth planning. Appleton is no exception, and The Draw downtown on the river is a good example of thoughtful reuse.
This historic building at 800 S. Lawe Street overlooking Lock 3 on the Fox River in Appleton Eagle Flats is a multi-functional, flexible space that includes a modern art gallery, office space, and art studios. It also offers event space for meetings, weddings and other celebrations, and a wide variety of performances.
The 5,200 square-foot building served as the corporate offices for the former Riverside Paper Corporation since the early 1900's. In 2011, the Riverside Paper Mill across the street was demolished to prepare the site for a new mixed-use residential neighborhood called Eagle Flats. Stadtmueller & Associates, a Neenah-based firm who's mission is to create sustainable redevelopment and building solutions that foster neighborhood revitalization, worked with others to save the buidling from the wrecking ball and give it new life.
We will get a tour of the property from John Adams, the building curator, and learn just what went into the conversion of the property to its new use, including some of the clever solutions that allowed them to preserve many of the existing features while adapting to the new needs of its function and occupants.
The educational will be followed by the social--stay to experience one of the uses of the space and enjoy appetizers and drinks with your fellow FM's at our annual holiday gathering. We will be taking freewill donations that evening for Fox Cities and Green Bay food pantries as well. Join us and wrap up the work year in style!
4:00-5:00 Registration and networking
5:00-5:30 Tour
5:30-8:00 Holiday gathering
Parking is limited directly in front of the building, but spaces are available in the new lot across the street, with additional parking south of the bridge adjacent to the Newberry Trail.
Tickets
$15.00 Member Registration
$25.00 Non-Member Registration